Adolf Hitler's uniforms
---
WORLD WAR I UNIFORM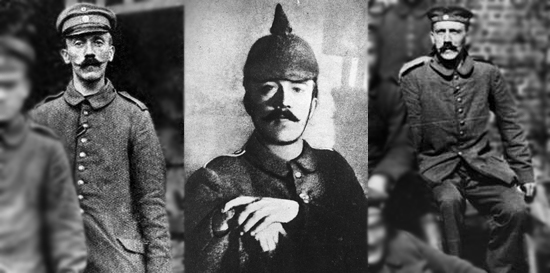 In August 1914, at the start of the first World War, Adolf Hitler requested to be enlisted in the Bavarian army and served in France and Belgium for the Bavarian Reserve Infantry Regiment 16 (1st Company of the List Regiment) for the entire war. After the first battle of Ypres in October 1914, Hitler was promoted from Schütze to Gefreiter (the equivalent of a lance corporal, a rank between private and corporal, the only rank to which an enlisted soldier could be promoted). He then was assigned to be a regimental message-runner.
In 1914, the uniforms of the German Army had not changed much since the 19th Century. In 1910, the field uniform was modernized: its color went from blue to field grey, but the rank insignia for officers and non-commissioned officers remained unchanged. After the start of the war, the German High Command realized that the pre-war uniform standards could not be maintained, and simplifications were made in 1915.
---
THE NSDAP UNIFORM
In the early days of the NSDAP, there was no standard uniform and members of the party often wore paramilitary uniforms, particularly the SA brown shirt during party rallies. Gradually, the party organization was improved and the first official uniforms were created around 1930. They would include a brown shirt or jacket along with brown trousers and various insignias. In 1932, new regulations introduced braided shoulder boards and collar rank insignias. After the Machtergreifung (Hitler's access to power) and especially in 1934, a major reorganization occurred and different levels were created among the party:

Ortsgruppen (local: towns and cities)
Kreisleitung (district: counties)
Gauleitung (regional: states and provinces)
Reichsleitung (national)
These levels were divided into several ranks, which had their own shoulder board, collar insignia, and armband.
Adolf Hitler, as well as some of the high party leaders (such as Joseph Goebbels) did not have any particular distinctive insignias and often wore a standard brown jacket with black or brown trousers, along with their party badge (or golden party badge) and standard NSDAP armband. Depending on the date or event, Hitler would wear the brown party uniform differently:
Single breasted brown jacket
Brown trousers
Belt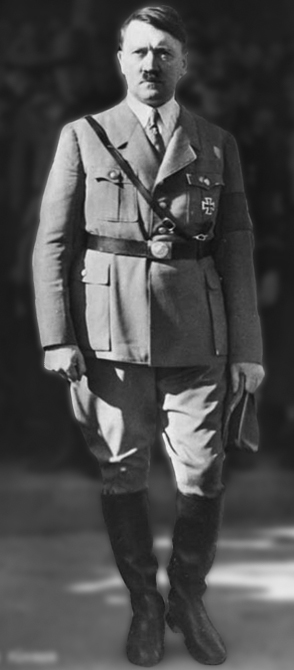 Single breasted brown jacket
Brown trousers
No belt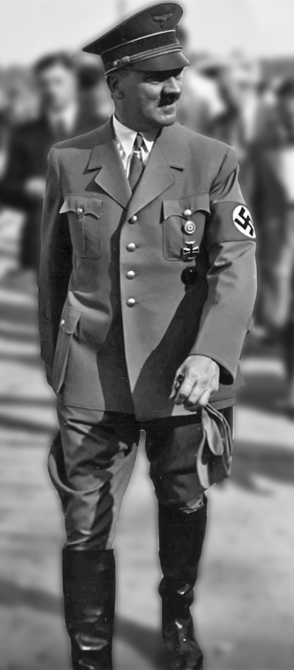 Single breasted brown jacket
Black trousers
No belt
Double-breasted brown jacket
Black trousers
Starting 1938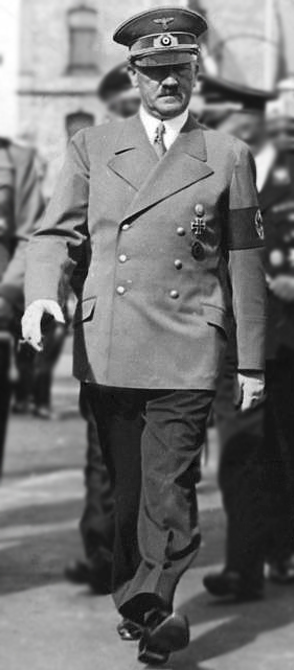 Here are a few variants and more details about the NSDAP uniform as worn by Hitler:
#

White Uniform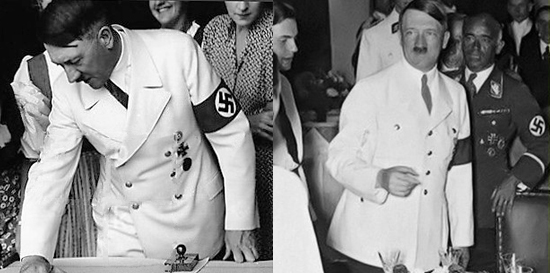 The NSDAP, as well as the SS and the Wehrmacht, had summer white uniforms that could be wore between April and October. Two versions were available: a single breasted, and a double-breasted jacket, that could be wore with either the matching white trousers, or black trousers, and matching white visor cap. Hitler also occasionally wore it with a brocade belt. Most of the time, he wore his white summer uniform with his standard visor cap, but sometimes (rarely), he wore it with the matching white visor cap.
#

Brown shirt/SA shirt
Prior to 1933 and his access to power, Hitler often wore the brown shirt during Party rallies and various events. Subsequently, he wore it only for 2 events (until the start of WWII): the annual Putsch commemoration of 9 November, and the SA and SS day and Blutfahne consecration during the annual Reichsparteitag. He has rarely been seen wearing the SA kepi (only one photo shoot from Heinrich Hoffmann, Hitler presumably hated the shots and decided never to wear it again), but he often kept it in hand in the early days. Until 1927/28, he also sometimes wore the brown shirt with a Lederhosen (traditional Bavarian leather breeches).
#

Visor cap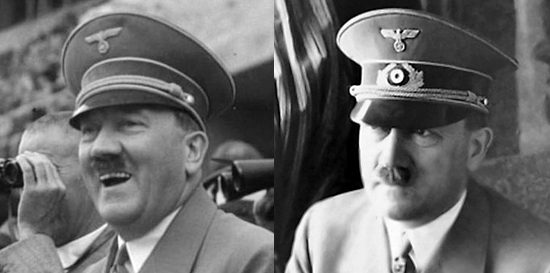 Prior to 1933, headgear was not standardized within the NSDAP, and many leaders just wore SA kepis. The visor caps were officially introduced in 1933. Hitler's one was particular: He asked for a longer visor in order to protect his eyes from the sun and light (he suffered from hyper photo sensibility after a mustard gas attack during World War I, that blinded him). The visor cap was the same brown color as the rest of the uniform. His cap had no cockade until early 1938, then he started to wear a supreme commander visor with embroidered golden wreath and bullion.
#

Belts and belt buckles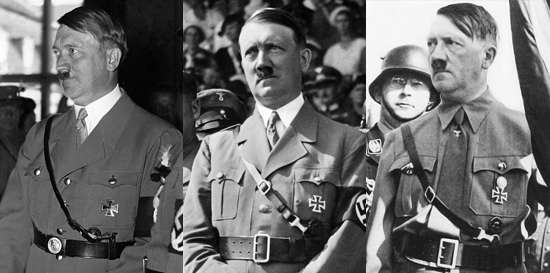 The belt was part of the standard NSDAP uniform. As seen in these photos, Hitler wore a total of three different belt buckles. The first, rounded, until early August 1934, and the third one from October 1937. He was sometimes wearing the full uniform with no belt, it seems he did have the belt during official events, and would not put it for more casual ones, although there are photos of a speech during which he wore no belt as well. The color of the belt changed from chocolate brown to a darker tone.
---
FIELD GREY WARTIME UNIFORM
From September 1st 1939 until the end of the Second World war, Hitler decided to wear exclusively the field grey uniform of the German army, because he considered himself as the first soldier. He did even wear this official uniform in his private life (there are no photos of him in civil or NSDAP uniform during WW2).

This could be a standard field grey uniform with belt (which he also wore without belt), or a double-breasted field grey jacket, no belt and black trousers.


Traudl Junge, one of Hitler's secretary from 1942 till the end of the war, recalls in her memoirs "Hitler's last secretary":
"He was wearing his usual black trousers, double-breasted field-grey coat, white shirt and black tie. I never saw him in anything else. His jacket was always perfectly plain, with silver buttons, but no braid or decorations. He just wore the golden Party badge on the left side of his chest, the Iron Cross and the black decoration for the wounded."